A. R. Ammons's Quotes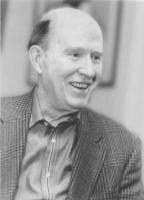 See the gallery for quotes by A. R. Ammons. You can to use those 7 images of quotes as a desktop wallpapers.
Visit partners pages
Much more quotes by A. R. Ammons below the page.
For though we often need to be restored to the small, concrete, limited, and certain, we as often need to be reminded of the large, vague, unlimited, unknown.
Tags: Often, Small, Though
I am grateful for - though I can't keep up with - the flood of articles, theses, and textbooks that mean to share insight concerning the nature of poetry.
Tags: Mean, Nature, Poetry