Akiva Schaffer's Quotes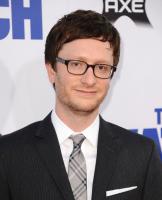 See the gallery for quotes by Akiva Schaffer. You can to use those 8 images of quotes as a desktop wallpapers.
One time, my mom told us, 'No TV.' It was 3 P.M., and I was sneaking it in. She put her hand on the back of the TV to see if it was warm, and it was. So she pulled the cord out of the wall, opened the second-floor window, and just threw it out the window.
Tags: Mom, Put, Time
Cartoons are the best stuff on TV. 'Wonder Showzen,' 'Aqua Teen,' 'SpongeBob,' and, of course, 'South Park' - one of the funniest shows ever made.
Tags: Best, Stuff, Teen
I take a lot of ladies' vitamins, because I never buy my own and that's what's in the house. More iron.
Tags: House, Iron, Ladies
I'm all about 'Halo 2'.
Tags:
Halo
Nothing is better than the moment you have Michael Bolton dressed as Forrest Gump and you see it in action.
Tags: Action, Dressed, Moment
All of our heroes did silly stuff early and got more serious as time went on. Steve Martin, Adam Sandler, Bill Murray. They got older, wiser, and made different choices.
Tags: Older, Serious, Time
I find that 'Ghostbusters' and 'Alien' actually have a lot in common in that they're both so naturalistic in the performances. It feels like people you could be hanging out with right now in this room, yet they're on a spaceship or killing ghosts. But the way they talk is never heightened or otherwordly.
Tags: Actually, Both, Talk
I've always loved music videos - I used to make my own for bands like Pearl Jam. My favorite directors are Michel Gondry, Spike Jonze, and Patrick Daughters.
Tags: Loved, Music, Used
'The Watch' is first and foremost a comedy, but since I got to shoot the film using elements from the sci-fi genre, I wanted to make sure the alien didn't look goofy. I got to make a real alien that looks dangerous. That was a big plus for me because I got to do something really fun and cool.
Tags: Cool, Fun, Real
What 'SNL' taught me that was useful on 'The Watch' was, only put in bad words if they can get a laugh - there was no need for swear words and beeps in places that weren't necessary. Those beeps should only be in there when they mean something and it's important to the joke.
Tags: Bad, Laugh, Mean
With a lot of those 'S.N.L.' shorts, we would do them just as we wanted to do them and then beep out the bad words. Since it was late night T.V., they let us get away with a lot.
Tags: Bad, Night, Words
You learn, even at 'S.N.L.,' that the funniest scripts a lot of the time were written with the actor, because they know what makes people laugh. It's always going to be better if they own it.
Tags: Laugh, Learn, Time
Visit partners pages