Alexander Woollcott's Quotes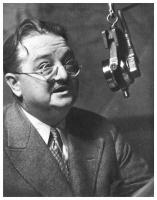 See the gallery for quotes by Alexander Woollcott. You can to use those 8 images of quotes as a desktop wallpapers.
I'm tired of hearing it said that democracy doesn't work. Of course it doesn't work. We are supposed to work it.
Tags: Government, Tired, Work
All the things I really like to do are either immoral, illegal or fattening.
Tags: Either, Illegal, Immoral
Many of us spend half of our time wishing for things we could have if we didn't spend half our time wishing.
Tags: Half, Spend, Time
At 83 Shaw's mind was perhaps not quite as good as it used to be, but it was still better than anyone else's.
Tags: Else, Good, Mind
Germany was the cause of Hitler as much as Chicago is responsible for the Chicago Tribune.
Tags: Cause, Chicago, Germany
It comes from the likes of you! Take what you can get! Grab the chances as they come along! Act in hallways! Sing in doorways! Dance in cellars!
Tags: Act, Along, Dance
Nothing risque, nothing gained.
Tags:
Gained
Visit partners pages