Betty Grable's Quotes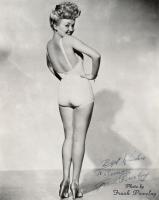 See the gallery for quotes by Betty Grable. You can to use those 5 images of quotes as a desktop wallpapers.
There are two reasons why I'm in show business, and I'm standing on both of them.
Tags: Business, Show, Why
The practice of putting women on pedestals began to die out when it was discovered that they could give orders better from there.
Tags: Die, Give, Women
You're better off betting on a horse than betting on a man. A horse may not be able to hold you tight, but he doesn't wanna wander from the stable at night.
Tags: Able, May, Night
I'm a song and dance girl. I can act enough to get by. But that's the limit of my talents.
Tags: Dance, Enough, Girl
Visit partners pages