Dolley Madison's Quotes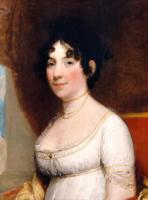 See the gallery for quotes by Dolley Madison. You can to use those 8 images of quotes as a desktop wallpapers.
And now, dear sister, I must leave this house or the retreating army will make me a prisoner in it by filling up the road I am directed to take.
Tags: Leave, Road, Sister
At this late hour a wagon has been procured, and I have had it filled with plate and the most valuable portable articles, belonging to the house.
Tags: House, Late, Valuable
When I shall again write to you, or where I shall be tomorrow, I cannot tell.
Tags: Cannot, Tell, Tomorrow
I am accordingly ready; I have pressed as many Cabinet papers into trunks as to fill one carriage; our private property must be sacrificed, as it is impossible to procure wagons for its transportation.
Tags: Impossible, Private, Ready
Visit partners pages