Frank Capra's Quotes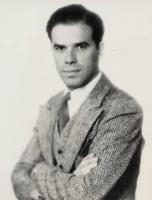 See the gallery for quotes by Frank Capra. You can to use those 8 images of quotes as a desktop wallpapers.
I made mistakes in drama. I thought drama was when actors cried. But drama is when the audience cries.
Tags: Drama, Mistakes, Thought
Scriptwriting is the toughest part of the whole racket... the least understood and the least noticed.
Tags: Noticed, Understood, Whole
Film is one of the three universal languages, the other two: mathematics and music.
Tags: Film, Music, Three
Whenever a situation develops to its extreme, it is bound to turn around and become its opposite.
Tags: Become, Situation, Turn
In our film profession you may have Gable's looks, Tracy's art, Marlene's legs or Liz's violet eyes, but they don't mean a thing without that swinging thing called courage.
Tags: Art, Courage, Mean
Visit partners pages