Gotthold Ephraim Lessing's Quotes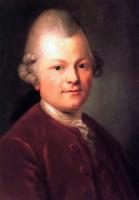 See the gallery for quotes by Gotthold Ephraim Lessing. You can to use those 6 images of quotes as a desktop wallpapers.
If some things don't make you lose your sense of reason, then you have none to lose.
Tags: Lose, Reason, Sense
The most deadly fruit is borne by the hatred which one grafts on an extinguished friendship.
Tags: Friendship, Fruit, Hatred
Let us be lazy in everything, except in loving and drinking, except in being lazy.
Tags: Except, Lazy, Loving
It is not the truth that a man possesses, or believes that he possesses, but the earnest effort which he puts forward to reach the truth, which constitutes the worth of a man.
Tags: Effort, Forward, Truth
Would that we could at once paint with the eyes! In the long way from the eye through the arm to the pencil, how much is lost!
Tags: Eyes, Lost, Once
Visit partners pages