J. P. Morgan's Quotes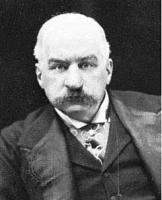 See the gallery for quotes by J. P. Morgan. You can to use those 8 images of quotes as a desktop wallpapers.
A man always has two reasons for doing anything: a good reason and the real reason.
Tags: Good, Leadership, Real
Go as far as you can see; when you get there, you'll be able to see farther.
Tags: Able, Far, Leadership
No problem can be solved until it is reduced to some simple form. The changing of a vague difficulty into a specific, concrete form is a very essential element in thinking.
Tags: Problem, Simple, Thinking
A man generally has two reasons for doing a thing. One that sounds good, and a real one.
Tags: Good, Real, Reasons
Well, I don't know as I want a lawyer to tell me what I cannot do. I hire him to tell how to do what I want to do.
Tags: Cannot, Him, Tell
Visit partners pages