Jessica Cutler's Quotes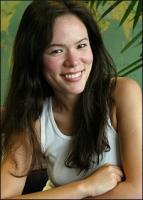 See the gallery for quotes by Jessica Cutler. You can to use those 7 images of quotes as a desktop wallpapers.
They'll totally hire me if I say I got fired from my job on the Hill because of a sex scandal.
Tags: Fired, Job, Sex
I always feel like I'm missing out on something, that someone is having more fun than I am, so I take measures to make sure that is impossible.
Tags: Fun, Impossible, Someone
If you don't like or care about your job, what's the big deal? I am so over it.
Tags: Big, Care, Job
Some people with blogs are never going to get famous, and they've been doing it for, like, over a year. I feel bad for them.
Tags: Bad, Famous, Year
You kind of create your own moral universe. It's like, well, I like myself. If other people don't like me, then whatever. I'm out of here.
Tags: Here, Moral, Universe
I always regarded people who want fame with a lot of suspicion. Unless you have a product to sell, I don't know why anyone would want to be famous. I can't imagine what need that would fill.
Tags: Anyone, Famous, Why
In real life, people are constantly saying one thing and doing another, but if you write your characters that way, the story becomes too hard to follow.
Tags: Life, Real, Saying
It's amazing to me that people have any interest in such a low-level sex scandal. If I were sleeping with a congressman, maybe, but I'm a nobody and the people I'm writing about are nobodies.
Tags: Amazing, Sex, Writing
Visit partners pages