Jim Talent's Quotes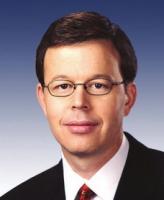 See the gallery for quotes by Jim Talent. You can to use those 7 images of quotes as a desktop wallpapers.
Visit partners pages
Much more quotes by Jim Talent below the page.
The elections in Iraq are a victory for freedom and the Iraqi people, and a blow to the transnational network of terrorists who have tried to prevent this day from happening.
Tags: Freedom, Tried, Victory
The old welfare system was hurting people by discouraging work and marriage. Welfare reform, and now this legislation, will build on the understanding that work and strong families are the foundation upon which we build our future.
Tags: Future, Marriage, Work
The problem is not that America does not have energy. The problem is that our government - alone among the governments of the world - will not allow its own people to recover the energy that they possess.
Tags: Alone, America, Government