Keith Emerson's Quotes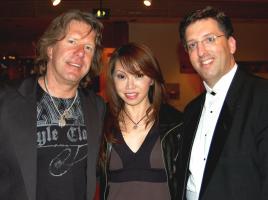 See the gallery for quotes by Keith Emerson. You can to use those 8 images of quotes as a desktop wallpapers.
Much more quotes by Keith Emerson below the page.
I had written movie scores, television series, played with other people. Carl had done the same with Asia, with other bands, everything. We weren't about to entrust Greg automatically with a production credit.
Tags: Done, Movie, Television
I was always playing the Hammond Organ back to front even during the days of the Nice, going back to 1968. Really what I was doing there, was choosing notes at random and trying to make some sense of them, improvising back to front.
Tags: Nice, Sense, Trying