King Edward VIII's Quotes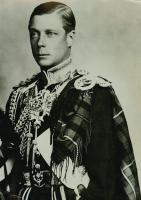 See the gallery for quotes by King Edward VIII. You can to use those 8 images of quotes as a desktop wallpapers.
When you're bored with yourself, marry and be bored with someone else.
Tags: Bored, Someone, Yourself
Perhaps one of the only positive pieces of advice that I was ever given was that supplied by an old courtier who observed: Only two rules really count. Never miss an opportunity to relieve yourself; never miss a chance to sit down and rest your feet.
Tags: Advice, Positive, Yourself
You all know the reasons which have impelled me to renounce the throne. But I want you to understand that in making up my mind I did not forget the country or the empire, which, as Prince of Wales and lately as King, I have for twenty-five years tried to serve.
Tags: Country, Forget, Mind
Of course, I do have a slight advantage over the rest of you. It helps in a pinch to be able to remind your bride that you gave up a throne for her.
Tags: Able, Her, Wedding
These works brought all these people here. Something should be done to get them at work again.
Tags: Done, Here, Work
Visit partners pages