Kingsley Amis's Quotes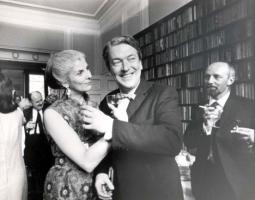 See the gallery for quotes by Kingsley Amis. You can to use those 8 images of quotes as a desktop wallpapers.
I sometimes feel that more lousy dishes are presented under the banner of pate than any other.
Tags: Banner, Lousy, Sometimes
It is no wonder that people are so horrible when they start their life as children.
Tags: Children, Life, Start
Self criticism must be my guide to action, and the first rule for its employment is that in itself it is not a virtue, only a procedure.
Tags: Action, Criticism, Self
He was of the faith chiefly in the sense that the church he currently did not attend was Catholic.
Tags: Church, Faith, Sense
His mouth had been used as a latrine by some small creature of the night, and then as its mausoleum.
Tags: Night, Small, Used
It was no wonder that people were so horrible when they started life as children.
Tags: Children, Life, Started
One of the great benefits of organised religion is that you can be forgiven your sins, which must be a wonderful thing. I mean, I carry my sins around with me, there's nobody there to forgive them.
Tags: Great, Mean, Religion
Visit partners pages