Larry Niven's Quotes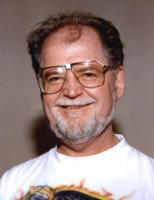 See the gallery for quotes by Larry Niven. You can to use those 7 images of quotes as a desktop wallpapers.
Much more quotes by Larry Niven below the page.
Bruce Sterling is one terrific writer and he's relatively new, but I don't know how long he's been doing it; he probably doesn't need the publicity anymore!
Tags: Anymore, Publicity, Writer
I'd visit the near future, close enough that someone might want to talk to Larry Niven and can figure out the language; distant enough to get me decent medical techniques and a ticket to the Moon.
Tags: Future, Medical, Someone