Leon Wieseltier's Quotes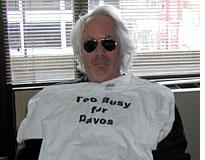 See the gallery for quotes by Leon Wieseltier. You can to use those 7 images of quotes as a desktop wallpapers.
What matters to me is that one identifies one's genuine obsessions, one's genuine commitments, one's genuine appetites, one pursues them seriously and far.
Tags: Far, Matters, Seriously
Dilettantism is the sort of thing one must avoid.
Tags:
Avoid
Her book about the money in sex gives you the feeling of the sex in money.
Tags: Feeling, Money, Sex
Incorruptibility by money is the old story... Now it's incorruptibility by media.
Tags: Money, Old, Story
There are moral religious people and moral secular people, immoral religious people and immoral secular people.
Tags: Immoral, Moral, Religious
There are times when the power of language is not the power that is needed.
Tags: Language, Power, Times
Visit partners pages