Lou Thesz's Quotes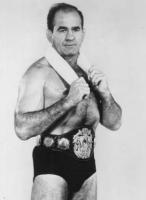 See the gallery for quotes by Lou Thesz. You can to use those 6 images of quotes as a desktop wallpapers.
I remember things that happened sixty years ago, but if you ask me where I left my car keys five minutes ago, that's sometimes a problem.
Tags: Car, Problem, Remember
Friday was Atlanta. That was fifteen bucks. Once a month, we made a six hundred mile trip from Indianapolis down to Atlanta, and at fifteen dollars, by the time you feed yourself and buy gasoline, you're minus about ten bucks.
Tags: Once, Time, Yourself
More of quotes gallery for Lou Thesz's quotes