Margot Asquith's Quotes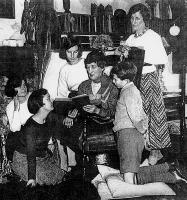 See the gallery for quotes by Margot Asquith. You can to use those 6 images of quotes as a desktop wallpapers.
The capacity to suffer varies more than anything that I have observed in human nature.
Tags: Capacity, Human, Nature
What a pity, when Christopher Columbus discovered America, that he ever mentioned it.
Tags: America, Columbus, Pity
From the happy expression on their faces you might have supposed that they welcomed the war. I have met with men who loved stamps, and stones, and snakes, but I could not imagine any man loving war.
Tags: Happy, Men, War
It is always dangerous to generalize, but the American people, while infinitely generous, are a hard and strong race and, but for the few cemeteries I have seen, I am inclined to think they never die.
Tags: Die, Hard, Strong
Rich men's houses are seldom beautiful, rarely comfortable, and never original. It is a constant source of surprise to people of moderate means to observe how little a big fortune contributes to Beauty.
Tags: Beautiful, Beauty, Men
Visit partners pages