Martin Milner's Quotes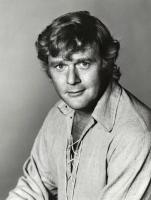 See the gallery for quotes by Martin Milner. You can to use those 7 images of quotes as a desktop wallpapers.
It seems the farther away we are from Hollywood, the better the ratings.
Tags: Away, Hollywood, Seems
I even played Jack Webb's partner on the radio version of Dragnet for a while.
Tags: Partner, Played, While
I have no complaints on any level. I'm pretty happy about the way everything has turned out.
Tags: Happy, Level, Pretty
On other shows, guys can't wait to put 3000 miles between them during hiatus.
Tags: Between, Put, Wait
Having covered some half a hundred cities, towns, villages, and wide spots in the road during the last tow years, George and I fairly wallowed in the comfort of our own home base.
Tags: Home, Last, Road
My main worry is that after a certain point you become so identified with a character and a series that you might not be able to get work when your show goes off the air.
Tags: After, Character, Work
We host some trips all over the world. We go to Alaska. We go to Mexico. We're going to Venezuela in December. We've been to Russia, all in conjunction with the radio show.
Tags: December, Radio, Show
Visit partners pages