Michael Nyqvist's Quotes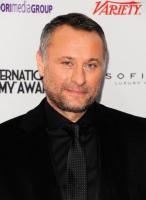 See the gallery for quotes by Michael Nyqvist. You can to use those 8 images of quotes as a desktop wallpapers.
David Fincher is one of the best directors I know, so I'm really curious to see it. Really curious, and I want to hear Daniel have the Swedish accent.
Tags: Best, Curious, Hear
I think the whole mission of being here on Earth is to accept what you have, and my journey was to accept my own life and not pretend anything else. I think that's what we all struggle with.
Tags: Else, Life, Struggle
I was not allowed to talk about being adopted when growing up. I walked around feeling like I was going to explode.
Tags: Feeling, Growing, Talk
It actually got me upset reading about adopted children. They become junkies or criminals or actors. I wanted to write a book from the children's point of view.
Tags: Become, Book, Children
Visit partners pages