Nick Rhodes's Quotes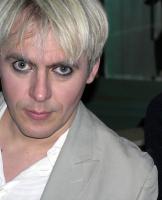 See the gallery for quotes by Nick Rhodes. You can to use those 6 images of quotes as a desktop wallpapers.
Much more quotes by Nick Rhodes below the page.
I always say to people, the Eighties were so inventive because people wanted to stand out. By the time we got to the Nineties, everyone wanted to fit in. It was all about having the same pair of trainers and the same pair of jeans. That's fatal. Whereas the Eighties you would never be seen in the same pair of jeans that somebody else was wearing.
Tags: Else, Time, Wanted
I think pop culture is the greatest subject matter out there - 'Other People's Lives,' as we wrote about on the last Duran Duran album. Most ideas for great songs come from real situations, something your friend said to you the night before, the girl that just left, or something traumatic in your life.
Tags: Girl, Great, Life
I'm fascinated with genetic science, and I have been for a very long time. I always look at science and technology because I think that the developments in my lifetime have been so remarkable - and we're only at the tip of the iceberg with projects like decoding the human genome.
Tags: Science, Technology, Time