Nikos Kazantzakis's Quotes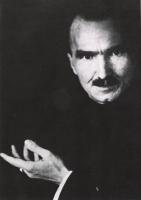 See the gallery for quotes by Nikos Kazantzakis. You can to use those 7 images of quotes as a desktop wallpapers.
Since we cannot change reality, let us change the eyes which see reality.
Tags: Change, Eyes, Reality
A person needs a little madness, or else they never dare cut the rope and be free.
Tags: Else, Free, Needs
The real meaning of enlightenment is to gaze with undimmed eyes on all darkness.
Tags: Darkness, Eyes, Real
I said to the almond tree, 'Friend, speak to me of God,' and the almond tree blossomed.
Tags: Friend, God, Said
Beauty is merciless. You do not look at it, it looks at you and does not forgive.
Tags: Beauty, Forgive, Looks
Visit partners pages