Oscar De La Hoya's Quotes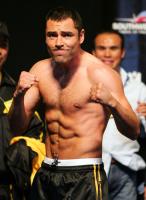 See the gallery for quotes by Oscar De La Hoya. You can to use those 7 images of quotes as a desktop wallpapers.
I think my body went through a lot, went through the wringer. In terms of being inside the ring, getting hit, but also outside the ring, living a crazy life.
Tags: Crazy, Life, Living
Everything I have in this world, I owe to the sport of boxing, and I won't ever forget that.
Tags: Boxing, Forget, Won
I think about making a comeback every single day. I went running, I went training, did that for a few days. But my body couldn't handle it.
Tags: Making, Single, Training
There is always space for improvement, no matter how long you've been in the business.
Tags: Business, Matter, Space
You get to be famous or have some notoriety and there are so many people who want a piece of you.
Tags: Famous, Notoriety, Piece
Visit partners pages