Paula Patton's Quotes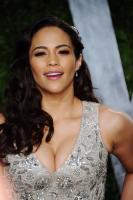 See the gallery for quotes by Paula Patton. You can to use those 8 images of quotes as a desktop wallpapers.
As a little girl I always dreamed of having a cosmetics contract, which was the cherry on top of 'making it' in my opinion.
Tags: Girl, Making, Opinion
First off let me say, I've wanted to be an actress since I was a little girl.
Tags: Girl, Off, Wanted
I try not to have too many opinions; I just marvel at the world we live in.
Tags: Marvel, Opinions, Try
If you have the capacity to love, you have the capacity to love anyone.
Tags: Anyone, Capacity, Love
Sometimes I do yoga, sometimes it's kickboxing, sometimes it's weight training, sometimes it's Pilates.
Tags: Sometimes, Training, Weight
A movie is painting, it's photography, it's literature - because you have to have the screenplay - it's music. Put a different soundtrack to a comedy and it's a tragedy. A movie combines all those forms and forces you to pay attention for two hours with a group of people.
Tags: Attention, Music, Put
Making African American films are hard in Hollywood. We need to rely on a support network and bring more cohesion to different filmmakers, actors, producers etc. It's a very difficult business. There aren't a lot of Africans Americans or people of color in high positions in Hollywood that we can green-light films.
Tags: Business, Difficult, Hard
Visit partners pages