Robert Hughes's Quotes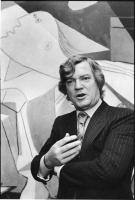 See the gallery for quotes by Robert Hughes. You can to use those 8 images of quotes as a desktop wallpapers.
The greater the artist, the greater the doubt. Perfect confidence is granted to the less talented as a consolation prize.
Tags: Confidence, Doubt, Perfect
A determined soul will do more with a rusty monkey wrench than a loafer will accomplish with all the tools in a machine shop.
Tags: Accomplish, Determined, Soul
Landscape is to American painting what sex and psychoanalysis are to the American novel.
Tags: American, Painting, Sex
Popular in our time, unpopular in his. So runs the stereotype of rejected genius.
Tags: Genius, Popular, Time
Transportation made sublimation literal. It conveyed evil to another world.
Tags: Another, Evil, Literal
Visit partners pages