Warren Ellis's Quotes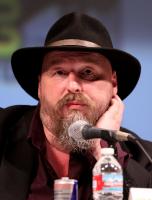 See the gallery for quotes by Warren Ellis. You can to use those 8 images of quotes as a desktop wallpapers.
If you believe that your thoughts originate inside your brain, do you also believe that television shows are made inside your television set?
Tags: Brain, Television, Thoughts
You're miserable, edgy and tired. You're in the perfect mood for journalism.
Tags: Miserable, Perfect, Tired
Open debate and full discourse on the topic of torture is a double-edged sword.
Tags: Debate, Full, Open
Visit partners pages