William Laud's Quotes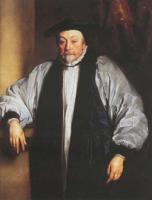 See the gallery for quotes by William Laud. You can to use those 8 images of quotes as a desktop wallpapers.
Behold, I am become a reproach to thy holy name, by serving any ambition and the sins of others; which though I did by the persuasion of other men, yet my own conscience did cheek and upbraid me in it.
Tags: Become, Men, Others
Some hypocrites and seeming mortified men, that held down their heads, were like the little images that they place in the very bowing of the vaults of churches, that look as if they held up the church, but are but puppets.
Tags: Church, Men, Place
The Lord receive my soul, and have mercy on me, and bless this kingdom with peace and charity, that there may not be this effusion of Christian blood amongst them.
Tags: Christian, May, Peace
Visit partners pages