Young Buck's Quotes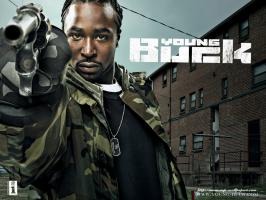 See the gallery for quotes by Young Buck. You can to use those 8 images of quotes as a desktop wallpapers.
I came back to the hood and got in those streets and started doing whatever it took for me to provide.
Tags: Started, Took, Whatever
I want the world to get a feel of me, showing them the way I am and the way I get down.
Tags:
Showing
I started rapping when I was about 12 or 13, just playing around with it.
Tags: Playing, Rapping, Started
I was young and felt like it was opportunity 'cause they were moving units back then on the underground scene.
Tags: Felt, Moving, Young
I was young and so eager to make some money as well as get exposed and show my talent.
Tags: Money, Show, Young
It was like an honor thing for me to meet 50 cause I respected his whole story.
Tags: Honor, Story, Whole
You won't really get a lot of the mainstream, lovey-dovey side because that wasn't a part of my life in the beginning.
Tags: Beginning, Life, Won
The people I used to have around me from Nashville was showing love to the Cash Money clique on the strength of Buck trying to make it; making sure Buck gets to where he gots to go.
Tags: Love, Money, Strength
Visit partners pages