Anna Letitia Barbauld's Quotes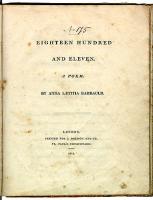 See the gallery for quotes by Anna Letitia Barbauld. You can to use those 7 images of quotes as a desktop wallpapers.
The most characteristic mark of a great mind is to choose some one important object, and pursue it for life.
Tags: Great, Life, Mind
When one by one our ties are torn, and friend from friend is snatched forlorn; when man is left alone to mourn, oh! then how sweet it is to die!
Tags: Alone, Die, Friend
The best way for women to acquire knowledge is from conversation with a father, a brother, or a friend, in the way of family intercourse and easy conversation, and by such a course of reading as they may recommend.
Tags: Best, Family, Women
Young gentlemen, who are to display their knowledge to the world, should have every motive of emulation, should be formed into regular classes, should read and dispute together, should have all the honors, and, if one may say so, the pomp of learning set before them, to call up their ardor. It is their business, and they should apply to it as such.
Tags: Business, Knowledge, Learning
Visit partners pages