Anthony Rizzo's Quotes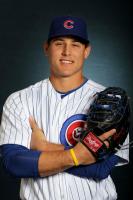 See the gallery for quotes by Anthony Rizzo. You can to use those 8 images of quotes as a desktop wallpapers.
Every day there is something new you are working on. It is a challenge every day and that is what makes this game so great.
Tags: Game, Great, Working
I believe that everything you work at and want in life is a great challenge.
Tags: Great, Life, Work
You obviously want the results but you must do your job in every at-bat and deal with what every situation dictates.
Tags: Job, Results, Situation
I have to go with the approach I had in Triple-A. I need to take a lot of those fastballs I am seeing to left field. Also must gear up for the changeup and take them up the middle.
Tags: Left, Middle, Seeing
I will respect the limits of my experience but that won't stop me from trying to lead by example of my work. Being a good teammate and picking them up on and off the field is a simple goal of mine.
Tags: Good, Respect, Work
One game, one pitch can change everything for a hitter. The way I like to approach it is that every at-bat is its own unique opportunity to go out there and do something really good.
Tags: Change, Game, Good
Visit partners pages