Berenice Marlohe's Quotes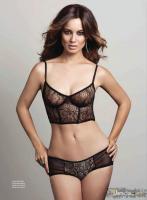 See the gallery for quotes by Berenice Marlohe. You can to use those 8 images of quotes as a desktop wallpapers.
I'm 50% Asian actually, so yes I was born in Paris but I feel more international than French so I can't talk about French women.
Tags: Actually, Talk, Women
'Bond girl' is a bit abstract, what does that mean, you see a girl in a bikini?
Tags: Bit, Girl, Mean
I admire actors who are bold and try to go forward over the cliche and propose something original to the audience.
Tags: Audience, Forward, Try
I'm very passionate about art, music, drawing, acting, so I'd like to have the chance to get the larger choice regarding acting.
Tags: Acting, Art, Music
It's very difficult in France to get access to castings when you don't have any relationships.
Tags: Access, Difficult, France
And Shanghai is amazing. I'm a fan of science fiction so when you're there in the night with all the lights and all this modernity, it's like a set in a movie.
Tags: Amazing, Night, Science
I really enjoyed 'Casino Royale' because suddenly something changed with this modernity and with Daniel bringing life to James Bond in a very new way.
Tags: Changed, Enjoyed, Life
I totally heard by chance that they were doing the casting for a James Bond movie, and that one of the auditions was taking place in Paris. So I tried myself to contact every name involved in the movie I could possibly find on the IMDb!
Tags: Chance, Movie, Place
Well as I said in France I didn't get auditions, and it's very difficult to get an agent in France because they conduct the business in a strange way.
Tags: Business, Said, Strange
Visit partners pages