Carlos Pena, Jr.'s Quotes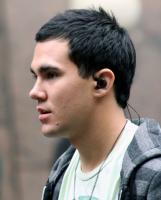 See the gallery for quotes by Carlos Pena, Jr.. You can to use those 7 images of quotes as a desktop wallpapers.
Here's the thing, back in the day, a lot of guys would make fun of me, that I would sing and dance, that I was a cheerleader. But I kept my head on straight. I had goals.
Tags: Dance, Fun, Here
I had one drama teacher who was amazing, Ms. Perkins. She really tried to inspire me and get me going.
Tags: Amazing, She, Teacher
I've always wanted to be able to hold my breath for like, ever, and swim in the water like a fish.
Tags: Able, Fish, Wanted
Growing up with my dad, whenever I wanted to try something, he would let me try it but he wouldn't let me give up on it. If soccer was too tough and I said, 'I'm going to quit,' he'd be like, 'No, you're going to try everything and keep going at it.'
Tags: Dad, Give, Try
Visit partners pages