Chaka Fattah's Quotes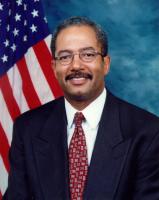 See the gallery for quotes by Chaka Fattah. You can to use those 6 images of quotes as a desktop wallpapers.
Visit partners pages
Much more quotes by Chaka Fattah below the page.
The President's proposed privatization plan would jeopardize that security by cutting guaranteed benefits for future retirees and endangering the benefits of current retirees, people with disabilities, and children who have lost a parent.
Tags: Children, Future, Lost
There are no problems that exist in the District that have been solved elsewhere in the country. Whatever problems exist in this city exist other places.
Tags: Country, Problems, Whatever