Christina Rossetti's Quotes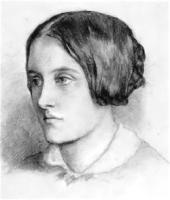 See the gallery for quotes by Christina Rossetti. You can to use those 8 images of quotes as a desktop wallpapers.
For there is no friend like a sister in calm or stormy weather; To cheer one on the tedious way, to fetch one if one goes astray, to lift one if one totters down, to strengthen whilst one stands.
Tags: Calm, Friend, Weather
Better by far you should forget and smile that you should remember and be sad.
Tags: Forget, Sad, Smile
I dream of you to wake; would that I might Dream of you and not wake but slumber on.
Tags: Dream, Might, Wake
Who has seen the wind? Neither you nor I but when the trees bow down their heads, the wind is passing by.
Tags: Nor, Seen, Wind
She gave up beauty in her tender youth, gave all her hope and joy and pleasant ways; she covered up her eyes lest they should gaze on vanity, and chose the bitter truth.
Tags: Beauty, Hope, Truth
Visit partners pages