Fred Seibert's Quotes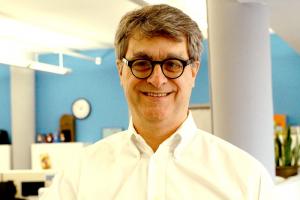 See the gallery for quotes by Fred Seibert. You can to use those 8 images of quotes as a desktop wallpapers.
I tell people if I want to make a film I just go make it so you can make yours.
Tags: Film, Tell, Yours
Cartoon Hangover has given us another place we felt we could find the most talented people around the world and give them a chance to make the films they want to make and match it up with their audience.
Tags: Another, Give, Place
Castle Rock and New Line each have their strengths, but the great thing about New Line is that they are a real focused-market, niche-market player who understand franchises. They probably understand the franchise business in motion pictures better than anyone else out there.
Tags: Business, Great, Rock
Everything about 'Adventure Time' is the purest form of kid's play. A kid does not live in the Land of Ooo. That is one of the wonderful things about the show; it doesn't pretend to be real. That was the great thing about 'Pee Wee's Playhouse'; it existed in a world completely outside any reality a kid recognized.
Tags: Great, Reality, Time
I come from a time when pop music was the coin of the cultural realm and in a certain way was the only coin of the realm; movies didn't matter as much, and not TV - it was all about pop music. In the era when I started - which was the early '60s - it was all about singles leading to albums.
Tags: Movies, Music, Time
I really like dating stories, like in Betty and Veronica comics; I like David Lynch and H.P. Lovecraft for the dark gut-wrenching stuff, and I'm inspired by Miyazaki's films for the subtle heart-warming moments, as well as the moments that blew up my imagination.
Tags: Dark, Dating, Inspired
If you mentioned Hanna-Barbera to people, they said, 'Oh yeah, Flintstone, Yogi, Scooby-Doo, Jetsons,' and that was pretty much it. We have characters with very high recognition factors and great films, but no organized plans for really making the most of them and increasing their value.
Tags: Great, Pretty, Said
If you were to look at an old 'Betty Boop' cartoon or an 'Out of the Ink Well' animation, there are many things about 'Adventure Time' that really remind you of that, even though it doesn't look like any of those cartoons.
Tags: Adventure, Old, Time
My background is that I've spent a lot of time marketing entertainment. One of the old saws in package goods is you can take something that is popular and you can make it more popular. But if you take something less popular, you can't automatically market it into the same success as something that's already popular.
Tags: Old, Success, Time
One of the most effective ways we started our web efforts in the early 2000s with our first channel Frederator, we basically showcased 1000's of shows on our show over a few years and what that did was introduce us to talented people from all across the world, you name it, we met people all over the place.
Tags: Few, Place, Show
The early seasons of 'The Simpsons' had a great deal of heart. That's what I'm trying to pull from, the kind of stuff that goes straight to kids' hearts. When they're watching, they don't necessarily know why they love something.
Tags: Great, Heart, Love
Up until the time Turner Broadcasting bought Hanna-Barbera, it was essentially an independent studio whose planning cycle had to be nine months. You got a pickup in January, and you put it on the air in September. That's been the cycle.
Tags: Put, Time, Until
Visit partners pages