Guy Spier's Quotes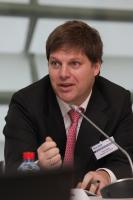 See the gallery for quotes by Guy Spier. You can to use those 8 images of quotes as a desktop wallpapers.
For most people, attaining the intellectual clarity and emotional detachment that investing requires is tough.
Tags: Clarity, Emotional, Tough
When Warren Buffett says the sun shines out of somebody's backside, it's worth paying attention.
Tags: Attention, Sun, Worth
From time to time, you have seminal personalities who really change the way the world sees itself - people like Gandhi, Martin Luther King, Nelson Mandela. Warren Buffett is that kind of person in the business world.
Tags: Business, Change, Time
Warren Buffett has shown you can be very, very successful without being rapacious, while still being honest, without engaging in constant legal battles.
Tags: Honest, Legal, Successful
Visit partners pages