Joe Lando's Quotes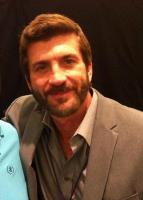 See the gallery for quotes by Joe Lando. You can to use those 6 images of quotes as a desktop wallpapers.
Visit partners pages
Much more quotes by Joe Lando below the page.
I love the Midwest. I think about it every day. I wonder if I would rather have a little farm in the Midwest, in Illinois or Wisconsin, or would I rather have like a little getaway up in the mountains of Colorado.
Tags: Love, Rather, Wonder
On the first season of our show, I commissioned a Native American artist to make up, 'cause I'm known for the tomahawk, besides the hair and the leather outfit and the whole thing.
Tags: American, Hair, Whole