Lionel Hampton's Quotes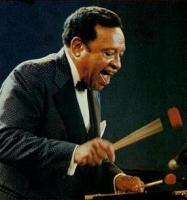 See the gallery for quotes by Lionel Hampton. You can to use those 8 images of quotes as a desktop wallpapers.
I worked hard learning harmony and theory when I was growing up in Chicago in the 1920s.
Tags: Growing, Hard, Learning
Black and white players hadn't appeared together in public before Teddy Wilson and I began working with B.G.
Tags: Black, Together, Working
Every day I look forward to getting with my instruments, trying new things.
Tags: Forward, Getting, Trying
I think I love it more as I get older because I keep getting better on drums, vibes and piano.
Tags: Getting, Keep, Love
Music was our wife, and we loved her. And we stayed with her, and we clothed her, and we put diamond rings on her hands.
Tags: Music, Put, Wife
Playing gives me as much good feeling now as it did when I was a bitty kid.
Tags: Feeling, Good, Playing
Working with Benny was important for me and for black musicians in general.
Tags: Black, Musicians, Working
Visit partners pages