Maurice Chevalier's Quotes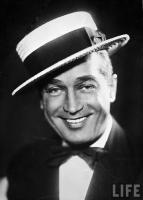 See the gallery for quotes by Maurice Chevalier. You can to use those 8 images of quotes as a desktop wallpapers.
A comfortable old age is the reward of a well-spent youth. Instead of its bringing sad and melancholy prospects of decay, it would give us hopes of eternal youth in a better world.
Tags: Age, Give, Sad
If you wait for the perfect moment when all is safe and assured, it may never arrive. Mountains will not be climbed, races won, or lasting happiness achieved.
Tags: Happiness, May, Perfect
You don't stop laughing because you grow older. You grow older because you stop laughing.
Tags: Grow, Older, Stop
Many a man has fallen in love with a girl in a light so dim he would not have chosen a suit by it.
Tags: Girl, Light, Love
An artist carries on throughout his life a mysterious, uninterrupted conversation with his public.
Tags: Artist, Life, Public
It is always the same: women bedeck themselves with jewels and furs, and men with wit and quotations.
Tags: Men, Themselves, Women
The French are true romantics. They feel the only difference between a man of forty and one of seventy is thirty years of experience.
Tags: Between, Experience, True
Visit partners pages