Michael Symon's Quotes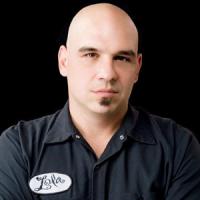 See the gallery for quotes by Michael Symon. You can to use those 7 images of quotes as a desktop wallpapers.
Visit partners pages
Much more quotes by Michael Symon below the page.
Recipes are important but only to a point. What's more important than recipes is how we think about food, and a good cookbook should open up a new way of doing just that.
Tags: Food, Good, Point
The exposure from 'Iron Chef' has been helpful, but at the end of the day your product and your service determine whether you get customers or not. If people decide to eat out less during a recession, the first restaurants that they will cut out are the ones that don't do a great job.
Tags: End, Great, Job
With all the hybrid stuff and things like that, I think that's a fabulous direction to go with cars in that sense. As someone who grew up around muscle cars, I'll never not be able to not love a muscle car. Not that I don't care about the environment, that's not it. But I adore muscle cars.
Tags: Car, Care, Love