Rip Taylor's Quotes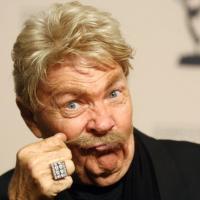 See the gallery for quotes by Rip Taylor. You can to use those 8 images of quotes as a desktop wallpapers.
I have a new joke today. Martha Stewart's on suicide watch. They had to unplug all of her ovens.
Tags: Her, Joke, Today
Because someone stole Gregory Peck's star on Hollywood Blvd., I have hired a Brink's guard to protect my star!
Tags: Hollywood, Someone, Star
Carrot Top... I gave him advice once and he ran with it. He should thank me.
Tags: Advice, Him, Once
I was supposed to be on the Tonight Show but I broke my shoulder instead.
Tags: Broke, Show, Tonight
I went to see Harvey again in Fiddler. Harvey's throat is getting better.
Tags: Again, Getting, Throat
Marty Richards is an angel on Earth. A producer that does what he says he'll do. He helped me greatly.
Tags: Angel, Earth, Says
Visit partners pages