Robert Burns's Quotes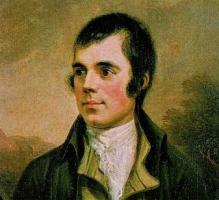 See the gallery for quotes by Robert Burns. You can to use those 7 images of quotes as a desktop wallpapers.
Opera is where a guy gets stabbed in the back, and instead of dying, he sings.
Tags: Dying, Guy, Opera
Firmness in enduring and exertion is a character I always wish to possess. I have always despised the whining yelp of complaint and cowardly resolve.
Tags: Character, Resolve, Wish
Suspicion is a heavy armor and with its weight it impedes more than it protects.
Tags: Heavy, Suspicion, Weight
I pick my favourite quotations and store them in my mind as ready armour, offensive or defensive, amid the struggle of this turbulent existence.
Tags: Mind, Ready, Struggle
There is no such uncertainty as a sure thing.
Tags:
Sure
The snowdrop and primrose our woodlands adorn, and violets bathe in the wet o' the morn.
Tags: Adorn, Bathe, Wet
Affliction's sons are brothers in distress; A brother to relieve, how exquisite the bliss!
Tags: Bliss, Brother, Brothers
His locked, lettered, braw brass collar, Shewed him the gentleman and scholar.
Tags: Gentleman, Him, Scholar
Visit partners pages