Ross Bleckner's Quotes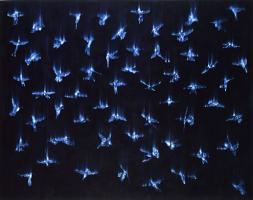 See the gallery for quotes by Ross Bleckner. You can to use those 8 images of quotes as a desktop wallpapers.
I see my studio like a laboratory, where I work like an investigator - it's almost forensic. I love the discovery process in painting.
Tags: Almost, Love, Work
I'm not really a foodie; I could eat the same thing every night, and I go to restaurants that I can walk to.
Tags: Eat, Night, Walk
I like my surroundings to be pretty spare and severe. It helps me to concentrate on my work. All I ever do here is go from my studio to my bedroom. Everything else is extraneous. I never entertain, because to me, New York is about meeting people in public spaces, absorbing a little bit of their energy.
Tags: Energy, Pretty, Work
Visit partners pages