Sia Furler's Quotes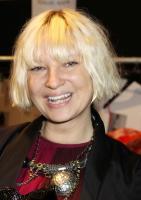 See the gallery for quotes by Sia Furler. You can to use those 8 images of quotes as a desktop wallpapers.
Much more quotes by Sia Furler below the page.
A lot of people come up to me expecting to meet the person they have seen perform. It's not going to happen, unless my mania, my stage person, responds to them and not the real me.
Tags: Happen, Real, Seen
I don't go to shows because I just want to listen to the music performed live. I want to get to know the person who's performing it. Or I want to, like, take away a sense that I had an experience that nobody else is going to have again, or a unique experience for that moment.
Tags: Experience, Moment, Music