Toby Keith's Quotes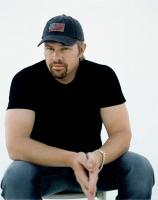 See the gallery for quotes by Toby Keith. You can to use those 8 images of quotes as a desktop wallpapers.
I say if you're going to take a chance on something, you just go full balls to the wall.
Tags: Chance, Full, Wall
Everybody should have their own thing, and if he don't want to be a role model, that should be up to him. In the right situations, I can try to help and be a role model, but I'm still gonna speak my mind, and if that affects the role-model deal, then too bad.
Tags: Bad, Help, Mind
We turned what is virtually a glorified independent label into one of the powerhouse labels in the town.
Tags: Label, Labels, Town
Well, I couldn't do the day-to-day stuff of being a politician or anything, but I just think everybody should have an opinion and everybody should vote, and that's what we're built on.
Tags: Everybody, Opinion, Vote
When I came to DreamWorks, I was in bad trouble. They were in bad trouble. They were millions of dollars in the hole and a few days from closing their doors. I was on my last leg.
Tags: Bad, Few, Last
Visit partners pages