Vanessa Carlton's Quotes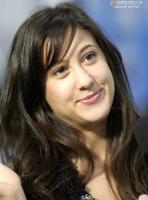 See the gallery for quotes by Vanessa Carlton. You can to use those 8 images of quotes as a desktop wallpapers.
Much more quotes by Vanessa Carlton below the page.
I don't use sex to sell records, obviously, but I'd be lying if I said that I don't feel like I have to make an effort to look good when I go out onstage, to wear something pretty.
Tags: Good, Pretty, Sex
I had no album title, and the album is like a journey in that it's a complete body of work. It's not just a couple of catchy songs and filler, so I felt that I needed to capture the essence of the album.
Tags: Body, Journey, Work