William Wilberforce's Quotes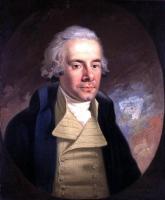 See the gallery for quotes by William Wilberforce. You can to use those 8 images of quotes as a desktop wallpapers.
Let everyone regulate his conduct... by the golden rule of doing to others as in similar circumstances we would have them do to us, and the path of duty will be clear before him.
Tags: Him, Others, Path
The objects of the present life fill the human eye with a false magnification because of their immediacy.
Tags: Human, Life, Present
Can you tell a plain man the road to heaven? Certainly, turn at once to the right, then go straight forward.
Tags: Forward, Once, Tell
It is the true duty of every man to promote the happiness of his fellow creatures to the utmost of his power.
Tags: Happiness, Power, True
Surely the principles of Christianity lead to action as well as meditation.
Tags: Action, Lead, Meditation
The first years in Parliament I did nothing - nothing to any purpose. My own distinction was my darling object.
Tags: Object, Parliament, Purpose
Visit partners pages