Countee Cullen's Quotes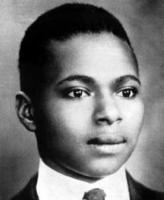 See the gallery for quotes by Countee Cullen. You can to use those 7 images of quotes as a desktop wallpapers.
For we must be one thing or the other, an asset or a liability, the sinew in your wing to help you soar, or the chain to bind you to earth.
Tags: Chain, Earth, Help
So in the dark we hide the heart that bleeds, And wait, and tend our agonizing seeds.
Tags: Dark, Heart, Wait
I was reared in the conservative atmosphere of a Methodist parsonage.
Tags: Atmosphere, Methodist
There is no secret to success except hard work and getting something indefinable which we call 'the breaks.' In order for a writer to succeed, I suggest three things - read and write - and wait.
Tags: Hard, Success, Work
Visit partners pages