Deion Sanders's Quotes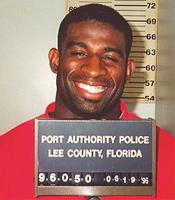 See the gallery for quotes by Deion Sanders. You can to use those 8 images of quotes as a desktop wallpapers.
Just think about the game. Think about playing great, having a great time. Helping my team win.
Tags: Game, Great, Time
Athletes know kids look up to them, and it's important for athletes to be responsible.
Tags: Athletes, Kids
I always wanted to make sure my parents didn't have to work again for the rest of their lives.
Tags: Parents, Wanted, Work
I don't care what they say about me when I'm through with sports. I don't want to be known as anything else in life but a great father.
Tags: Great, Life, Sports
I got my dog back, in African-American language, your dog means your passion, your fire.
Tags: Fire, Means, Passion
It's gonna be a lot of zeroes in that contract. You gonna think it's alphabet soup or something, all those zeroes in there.
Tags: Contract, Gonna, Soup
Visit partners pages