Dwight Howard's Quotes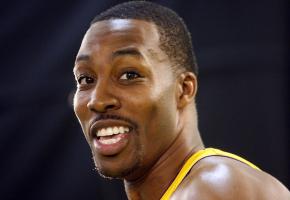 See the gallery for quotes by Dwight Howard. You can to use those 8 images of quotes as a desktop wallpapers.
I work extremely hard in the weight room, and also on the court to get better and make sure I keep my body in shape.
Tags: Hard, Keep, Work
But at the end of the day, every star, every person that been iconic, has gone through a time in their lives where it was just bad. Everybody. It just made them better.
Tags: Bad, End, Time
I didn't try to cry my way out of Orlando. That was never my intention, or not what I did at all. And I understand everybody thought it was that way because of what was being put out there.
Tags: Thought, Try, Understand
I would never, ever desert my child. A lot of my friends didn't have fathers growing up, and they were very upset that their fathers weren't around. I was lucky to have mine around.
Tags: Child, Friends, Growing
I've been on the side where you have nothing, and now I'm on the side where anything I want is there for me. When I didn't have the means to do whatever I wanted to do, I still had peace.
Tags: Peace, Wanted, Whatever
Visit partners pages