Frank Delaney's Quotes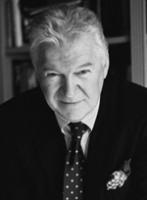 See the gallery for quotes by Frank Delaney. You can to use those 8 images of quotes as a desktop wallpapers.
I'd have to struggle to find a subject in which I can't get some kind of interested pulse started.
Tags: Interested, Started, Struggle
Writers have opinions - that, in part, is why they write. Therefore they have strong likes and dislikes.
Tags: Strong, Why, Write
As an arts journalist in London, working mainly for the BBC, I interviewed hundreds if not thousands of authors. From them I gleaned a great deal of passing instruction in writing and I observed one fascinating detail: no two writers approach their work - physically - in the same way.
Tags: Great, Work, Writing
For a startling period of my life, I reported the Troubles in Ireland for the BBC. I lived in Dublin and was called out to all sorts of incidents that, if taken together, add up to a war - bombings, assassinations, riots, shootings, robberies, jailbreaks, kidnappings, and sieges.
Tags: Life, Together, War
Visit partners pages